Hand Foamer Program
The best-selling Michel Design Works Branded Foamer Display! We've nicknamed it "The Money Wall," because it is sure to grow your sales! Standing 2' wide, 5' 6" tall, and 18" deep, this double-sided fixture, with its six adjustable display shelves, will hold 216 pieces of your number one selling item... Foaming Hand Soap!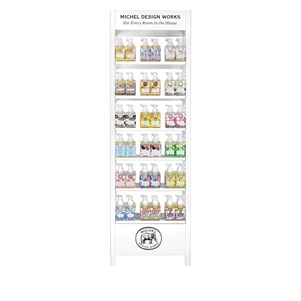 MICHEL DESIGN WORKS
#FIX08
Availability: In Stock
Foam Fixture Program
Order the Foamer Prepack and get the 2' Tower Display for Free.
The Foamer Prepack Includes:
18 each of the following Collections: Lemon basil, Lavender Rosemary, and Honey Almond
12 each of the following NEW Collections: Magnolia, Gardenia, Sweet Floral Melody, Wild Lemon, and Royal Rose
12 each of the following Collections: Beach, Peony, Indigo Cotton, Lilac and Violets, Country Life, Palm Breeze, Summer Days, Honey & Clover, Posies, and Sunflower
Start Shopping
Michel Design Works's full collections, both new and classic, are available to shop online for registered customers, or by contacting your Ivystone sales representative.
SHOP Michel Design Works
Become an Ivystone Customer
You must be registered and signed in to shop on our website. Not already registered? Sign up today to become and Ivystone customer!
Register Now
(Please allow 24 hours for the approval process.)